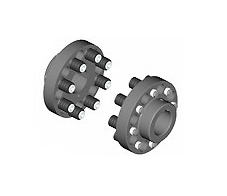 Product characteristics
More compact design

Increase of torque transmission by up to 40% compared with our REVOLEX® KX

Torsinally flexible, maintenance free

Vibration-reducing

Axial plug-in, failsafe

All-side machining, good dynamical features

All-side machining, good dynamical features

Protected surfacees (phosphated)

Elastomers made if chloroprene rubber (CR)

Used in large fans, high-pressure pumps, pressure piston fans, water turbines etc.

Explosion protection rated and confirmed acc. to EG Directive 94/0/EG
Coupling description
REVOLEX® KX is a torsionally flexible, failsafe pin & bush coupling. It can be plugged in axially and is characterized by its short design. In addition, REVOLEX® KX allows for an easy disassembly of the elastomer rings including the pins while being assembly. Taking into account the transmittable torque, REVOLEX® KX is based on the POLY-NORM® coupling.
The REVOLEX® KX coupling compensates for every kind of shaft misalignment while transmitting the torque safely.
Operation/Arrangement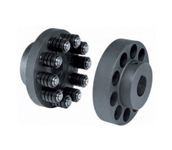 The coupling consists of two hubs; one pin hub with the corresponding pins and a bush hub. The torque is transmitted via the steel pins with their taper elastomer rings and the corresponding bores in the bush hub.
As a result all kinds of shaft misalignment, for example caused by inaccurate alignment of the driving or driven elements, is compensated for reliably and vibrations and shocks are compensated for excellently.
The coupling is maintenance-free and is used in general engineering and the pump industry, conveyor technology, etc. For an optimum adjustment to the different applications, 14-off sizes are available covering torques up to 377.800 Nm. Apart from the standard programme customized solutions are available.
Explosion-proof use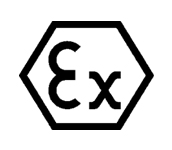 REVOLEX® KX couplings are suitable for the use in drives in hazardous areas. The couplings are certified according to EC Standard 94/9/EC (ATEX 95) and belong to category 2G/2D, are confirmed and thus suitable for the use in hazardous areas of zone 1, 2, 21 and 22.
Please read our information in the respective Type Examination Certificate and the operating and mounting instructions under www.ktr.com.