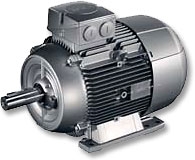 More Drive from Our New Range of Motors
Increasing energy costs mean that energy consumption is of increasing significance in drive technology. It is essential to fully exploit potential for minimizing these costs in order to remain competitive now and in the future. Lower energy consumption also benefits the environment. It is against this background that we are developing a new generation of low-voltage motors, enabling you to do more with your motors. Innovative copper rotors developed and produced by us create the very best basis for highly efficient motors. The new motors for EFF1 (high efficiency) thereby offer large energy savings and are better for the environment. Also, the modular design concept provides full flexibility: each motor is based on a standardized concept for all international markets
IEC Motors - a Brief Summary of Their Strengths
Increased efficiency
Instead of cast-aluminum rotors, copper technology is now used in the EFF1 motors. As a result, the motors have considerably smaller dimensions. The EFF2 and EFF1 motors are thus based on the same housing. When changing to the higher class of efficiency it is no longer necessary to redesign the machine, saving time and costs. Even more: with our EFF1 motors you can significantly save energy because they have up to 40% less power losses in comparison with EFF2 motors.
More power
With the same housing, our motors with increased output power offer higher kilowatts than standard power. And even better, we have also consistently pursued improved energy efficiency here. The motors are supplied in high efficiency nd improved efficiency versions based on the CEMEP classification.
More flexibility
The optimized architecture of the motors generally facilitates installation. Encoders, brakes and external fans can be added with minimal effort. As an option, terminal boxes and feet can be freely mounted and attached. The low number of different parts means that inventory is simplified and motor partners can react more quickly to customer demands. Optimized manufacturing processes ensure rapid availability. All motors can be run at up to 500 V either connected to the line or operated with inverter, without any additional steps.
IEC Motors - Technical Data
| | |
| --- | --- |
| Voltage and power ranges | 230 V-/400 VY, 400 V-/690 VY, 500 V-/500 VY, 0,75 kW - 18,5 kW, 1 HP - 25 HP |
| Frame sizes and designs | 100L to 160L, all standard types |
| Pole number and frequencies | 2-, 4-, 6- and 8-pole 50/60-Hz |
| Ambient conditions | Surface cooled with degrees of protection IP 55 |
IEC Motors - Typical Uses
The new motors are suitable in all types of industries and industrial applications that require very light motors. Examples for suitable sectors are the automobile, textile and printing industry as well as mechanical engineering; suitable applications are e.g. pumps, fans, compressors and conyevor technology.