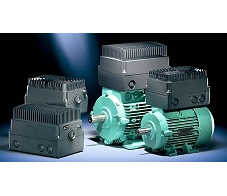 MICROMASTER 411 AND COMBIMASTER 411 - STANDARD
Variable-speed Drives for Decentralised Tasks The MICROMASTER 411/COMBIMASTER 411 products are ideally suited to decentralized drive applications which have the requirement for high IP protection rating. The modular design of the MICROMASTER 411/COMBIMASTER 411 allow the user to select the product components individually, including options. All the modules, starting from the series of basic units, are easy to install and wire up. Various communication modules are available, such as the PROFIBUS and AS-Interface module. Braking functions are implemented by the EM module (electromechanical brake control module) and an REM module (resistor brake and electromechanical brake control module).
Typical Uses
It has been designed for use in a broad range of drive applications from simple  individual pump or fan applications up to multiple drive conveyor applications  incorporating networked control systems.
The Technology at a Glance
| | |
| --- | --- |
| Voltage and power ranges | 380 V-480 V, ±10 %, 3 AC, 0.37 kW-3.0 kW |
| Operating temperature | -10 °C bis +40 °C |
| Process control | Internal PI controller |
| Types of control | FCC (Flux Current Control), multipoint characteristic (parameterisable V/f characteristic), V/f characteristic |
| Inputs | 3 digital inputs, 1 analog input |
| Outputs | 1 relay output |
| Link-up to automation | The ideal partner for your automation tasks; completely integrated into Totally Integrated Automation with PROFIBUS interface |
Its Strengths in Brief
Available for mounting near the motor or as COMBIMASTER 411
Requires less space due to compact space-saving design
Simple assembly, installation, and maintenance
Easily extendable due to modular design
Motor and inverter are perfectly matched
Improved electromagnetic compatibility due to removal of cables
Rugged housing with high degree of protection (inverter: IP 66; motor: IP 55; IP 56/IP 65 to order); suitable for corrosive environments (epoxy resin powder coating)
Comprehensive basic features
Serial RS 232 interface
Flying start and slip compensation functionality
Automatic restart after power failure or fault
Parameterisable ramp-up/ramp-down time from 0.01 to 240 s with multi-point smoothing
COMPOUND-braking for controlled fast braking
Electromechanical brake control (EM brake)
Integrated braking resistor with electromechanical brake control (REM brake)
Four skip frequencies
With PROFIBUS module, complete integration into Totally Integrated Automation (TIA) is possible
AS-Interface communication module available