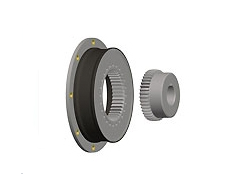 Product characteristics
Flange coupling with SAE and special flange dimensions

For the assembly in combustion engines

Compensation for misalignments

Axial plug-in without additional screwing

Couplings hubs belonging to the BoWex standard range

Finish bore ISO fit H7, feather keyway according to DIN 6885 page 1 (JS9)

Available in hardness 40, 50 and 65 Shore A

Special dimensions as well as lengthened hubs on request
Coupling description
BoWex® Curved-tooth gear couplings® are flexible shaft connections for a positive torque transmission and specifically suitable to compensate for axial, radial and angular shaft misalignment.
According to the well-known effect of curved-tooth gear couplings any edge pressure in the spline in case of angular and radial displacements is avoided so that BoWex couplings are almost free from wear.
General description
For drives subject to dangerous torsional vibrations to transmit the torque flexibly for the combination of diesel engine with splitterbox, generator, compressor, feed pump, highpressure pump, etc.: BoWex-ELASTIC® is highly flexible combining the benefits of the well-approved BoWex® system in a compact design with the option of an axial plug-in assembly inside the curved toothing. Torsional vibrations and shock loads are damped and reduced. Also, the coupling allows for compensation of radial, angular and axial inaccuracies in alignment with extremely low restoring forces. BoWex-ELASTIC® consists of a highly flexible, rubber element made from natural rubber which is governed by the size of the coupling. The internal axial plug-in hub with external spline corresponds to the BoWex® basic design. BoWex-ELASTIC® is available in different kinds of elastomer hardness with engine flywheel connection flanges to SAE J620 and special dimensions for a power up to 1,000 kW.
Behavior of friction and wear
The smooth and hard surface (crystalline structure) and the high thermal stability and resistance to lubricants, fuels, hydraulic fluids, dissolvents, etc. make polyamide an ideal material for components stressed by sliding, particularly for the coupling production. While any metallic materials tend to "corrode" in case of dry running, slide combinations with polyamide and steel are operative without any lubrication and maintenance.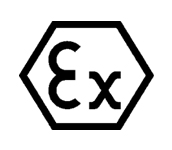 BoWex-ELASTIC® flangecouplings are suitable for power transmission in drives in hazardous areas.
The couplings are certified and confirmed according to EC standard 94/9/EC (ATEX 95) as units of category 2G/2D and thus suitable for the use in hazardous areas of zone 1, 2, 21 and 22.
Please read through our information included in the respective Type Examination Certificate and the operating and mounting instructions.